Honda Creating Electric Vehicle for China Inspired by HR-V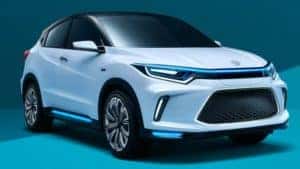 April 26th, 2018
Honda may have been one of the first automakers to offer a gasoline-electric hybrid, introducing the original Insight for the 2000 model year, but it hasn't been as quick to add battery-electric vehicles to its lineup. Even Honda's lease-only Clarity EV is only available in certain regions of the U.S. But at Auto China 2018, Honda revealed the small crossover that will be its first mass-production EV.
Called the Everus EV, the CUV you see here is essentially a concept in name only. It's been approved for production, but won't be available in the U.S.  It will be the first vehicle sold under the Everus sub-brand created by Honda and its Chinese partner GAC.
Details are scarce at the moment, but the Everus appears to be a subcompact crossover, potentially built on the same platform as the Fit and HR-V. Then again, it could just as easily use a dedicated electric platform we haven't seen before. When it goes on sale, Honda says the Everus will also be offered for use through Reachstar, a Chinese car-sharing service that Honda has invested in.
Beyond that, the only other thing we know is that the Everus EV is one of 20 electrified—not necessarily fully electric—vehicles that Honda plans to introduce by 2025. We've reached out to Honda for more information, but a spokesperson wasn't immediately available to comment. We'll update this post when we get a response.
Read full article by Collin Woodard at motortrend.com