A Look at the Honda Hybrid and EV Models

Source: Honda
Which Honda Cars are Hybrid or Electric?
In recent years, hybrid and electric cars have become increasingly popular among car buyers. One of the most notable car manufacturers in this category is Honda. With the Accord Hybrid, the CR-V Hybrid, and the upcoming Prologue arriving in 2024, Honda has taken a significant step towards providing consumers with eco-friendly vehicles that suit different lifestyles.
Honda Accord Hybrid
The Honda Accord Hybrid satisfies the needs of drivers who value comfort, luxury, and fuel efficiency. The car comes equipped with a 2.0-liter, four-cylinder engine that works in conjunction with two electric motors, delivering a combined output of 204 horsepower. The Accord Hybrid has superior handling and a spacious interior, making it a convenient option for families.
With its advanced hybrid technology, this car boasts an impressive driving range of up to 653.31 miles in the city and 563.64 miles on the highway. This not only makes it a sustainable option, but also helps you save on fuel expenses.
Honda CR-V Hybrid
If you're an outdoor enthusiast with a particular taste for adventure, the Honda CR-V Hybrid is a perfect match for you. It also has a 2.0-liter four-cylinder engine and two electric motors that deliver a combined output of 204 horsepower. Equipped with all-wheel drive and a 4-Mode Drive System (Snow, Sport, and ECON Mode), this model is well-suited for navigating rough terrain and inclement weather conditions. Additionally, the CR-V Hybrid's spacious cargo and cabin area lets you pack all your adventure gear hassle-free.
Honda Prologue
Honda is set to launch the fully-electric Prologue SUV in 2024. The Prologue's electric powertrain is expected to provide a range of over 300 miles on a single charge. This vehicle will support either front or all-wheel drive, depending on the consumer's preference. It will offer a spacious, comfortable interior and muscular 21-inch wheels, making it an ideal choice for road trips and family vacations.
The Prologue is set to deliver on performance as well, with an anticipated output of over 250 horsepower. Though Honda has not yet released the exact specs, they have promised that the vehicle will feature the latest in electric vehicle technology.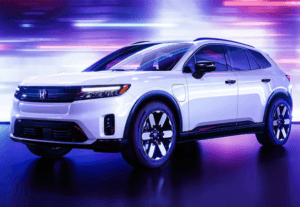 Source: Honda
The Future of Electric Hondas
As part of their commitment to a greener future, Honda has ambitious plans to launch 30 electric vehicle models globally by 2030. To achieve this goal, the company is investing a staggering 5 trillion yen (about $38 billion) in EV development and research.
This significant investment demonstrates Honda's dedication to transitioning from traditional combustion engines to sustainable, zero-emission powertrains. As a result, consumers can expect a more extensive range of electric and hybrid cars from Honda in the coming years, catering to diverse needs and preferences while minimizing the environmental impact of automotive transportation.
Final Thoughts
Hybrid and electric vehicles are rising in demand, and Honda is responding to this trend by providing car owners with versions that cater to almost every lifestyle. The Accord Hybrid and the CR-V Hybrid offer drivers comfortable, eco-friendly, and cost-effective options, while the upcoming Prologue is primed as a perfect option for people who want a luxurious and long-range electric SUV.
Honda is delivering green mobility without compromising the car owner's needs or comfort. So, whether you're passionate about the outdoors or luxury rides, Honda has a model for you. Visit Beaverton Honda to test drive the 2023 Honda CR-V Hybrid and 2023 Honda Accord Hybrid vehicles. We're sure you'll love them!