The All-New 2023 Honda CR-V Hybrid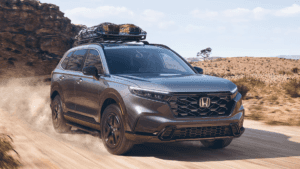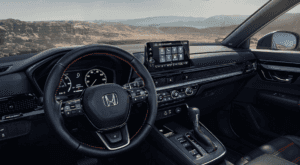 Source: Honda
The 2023 Honda CR-V Hybrid is revolutionary. It blends the strength of an SUV with the efficiency of a hybrid engine. A premium crossover with advanced performance and safety features that will take your driving experience to the next level.
Combining a hybrid powertrain and modern amenities, this SUV is designed to provide you with a truly unique ride. With its sleek design, cutting-edge technology, and spacious interior, the CR-V Hybrid is sure to be an instant hit among car enthusiasts of all ages.
Performance and Safety
This SUV is designed with advanced technology and features to provide a safe, efficient, and enjoyable ride. The hybrid powertrain combines a 2.0-liter 4-cylinder engine with 2 electric motors for improved fuel economy compared to the standard gasoline engine. This allows for optimized performance while using less fuel, so you don't need to sacrifice power or capability.
For added safety, the 2023 Honda CR-V Hybrid is equipped with advanced features such as Lane Keeping Assist, Adaptive Cruise Control, Automatic Emergency Braking, and Blind Spot Monitoring. With these features, you can rest easy knowing that your vehicle is equipped with the latest and greatest driver assistance technology.
Features and Design
Not only is the CR-V Hybrid designed for improved performance and safety, but it also offers plenty of premium amenities to make every drive more enjoyable. The cabin is spacious and comfortable, with plenty of head and legroom for passengers. It also features a premium audio system, climate controls, heated seats, wireless phone charging, and a 9-inch infotainment system.
The sleek and modern look sets it apart from other SUVs on the market. It features an aerodynamic design with sharp lines, stylish curves, and bold accents that give it a unique aesthetic. The exterior is finished off with alloy wheels, LED headlights and taillights, chrome accents, and optional roof rails for added utility. The interior boasts luxurious materials such as leather seating surfaces and ambient lighting options for extra ambiance at night-time drives.
Final Thoughts
Customers are raving about the all-new 2023 Honda CR-V Hybrid. They love its stylish design, powerful hybrid powertrain, advanced driver assistance features, and luxurious interior. Many have noted that it offers a smooth and comfortable driving experience with plenty of power for various road conditions.
This hybrid SUV was designed with the driver in mind. It is meant to make driving easier, more efficient, and more enjoyable for everyone who steps behind the wheel.
Experience the CR-V Hybrid Today
If you're searching for a dependable family SUV or commuter vehicle, the 2023 Honda CR-V Hybrid is your perfect choice. It will undoubtedly surpass all of your expectations and make driving an unforgettable experience!
Stop by Beaverton Honda in Beaverton, OR today to witness this innovative crossover for yourself. Our helpful team members are waiting to show you why so many people are raving about it!