A Comparison Review: Honda Accord vs. Toyota Camry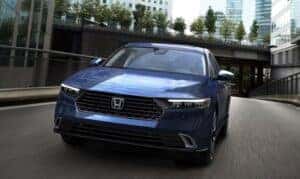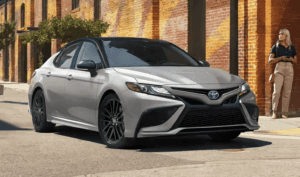 Comparing the 2023 Honda Accord vs. the 2023 Toyota Camry
Are you in the market for a midsize sedan? Let's compare the Honda Accord to its competitor, the Toyota Camry. These two models are among the most popular choices in this category.
Together we'll explore the similarities, differences, and unique features of these popular vehicles. From fuel efficiency and safety ratings to interior amenities and driving dynamics, we'll examine every aspect to determine the best choice for you.
Performance
The Accord's standard 1.5-liter turbocharged four-cylinder engine delivers 192 horsepower plus 192 lb-ft of torque. The Camry comes standard with a 2.5-liter four-cylinder engine and it delivers 203 horsepower, however, it offers 184 lb-ft of torque. It's worth noting that greater torque leads to improved acceleration and handling.
In terms of fuel efficiency, the Accord has Continuously Variable Transmission (CVT) which provides power while maintaining fuel economy. Its estimated mpg rating is 29 in the city and 37 on the highway. Meanwhile, the Camry's base engine has an estimated fuel economy of 28 mpg in the city and 39 mpg on the highway.
At higher price points, both Honda and Toyota offer Hybrid models. The Honda Accord Hybrid delivers a powerful 204 horsepower and a total of 247 lb-ft of torque. It also has an estimated 48 combined mpg rating. The Toyota Camry Hybrid offers up to 52 mpg combined, making it slightly more efficient but with 208 horsepower and 149 lb-ft of torque. Both vehicles provide great power, one with more powerful torque and one with a slight edge in fuel economy.
Features
Both the Honda Accord and the Toyota Camry offer a range of modern amenities with their different trim levels. They have in common the options for dual-zone automatic climate control, push-button start, heated/ventilated front seats, Bluetooth connectivity, front and rear parking sensors, power moonroofs, head-up displays, and infotainment displays with Apple CarPlay/Android Auto smartphone integration.
However, there are a few distinct features between the two. The Accord offers an extra-wide 12.3-inch touchscreen display with Google apps built-in, a 12-speaker Bose audio system, a self-opening truck, remote start, and other remote services with the HondaLink app.
The Camry also offers its own features such as a 9-inch multimedia display system, 6-speaker audio system, heated steering wheel, and remote services through the Toyota app.
Exterior Styling & Design
The Honda Accord features a sleek and modern design. It has a dynamic and sophisticated stance, accentuated by its wide front grille, sharp LED headlights, and sculpted body lines.
The Toyota Camry has a more aggressive design. It features a distinctive front grille design that extends outward, giving it a sporty and aerodynamic look.
Interior
The Honda Accord's spacious and stylish interior also adds to its appeal. The plush yet durable leather-trimmed seating elevates the driving experience. The front seats have extra lumbar support with their body-stabilizing design, providing a more comfortable drive. Additionally, the Accord can easily accommodate five passengers, with generous legroom and headroom, even for taller individuals.
The Toyota Camry's interior is also quite spacious and comfortable, with a mix of standard cloth and optional leather-trimmed seating. While both the Accord and Camry offer roomy interiors, the Accord may offer a slight advantage in terms of accommodating leg space.
Safety Technology
Both the 2022 Accord and Camry models have been awarded the Top Safety Pick by the Insurance Institute for Highway Safety (IIHS). The Accord performed exceptionally well in six crashworthiness tests, receiving a "Good" rating, while the Camry received five ratings.
In terms of safety features, the Honda Accord comes with the Honda Sensing Suite, which includes multiple features such as forward-collision warning, automatic emergency braking, lane-keeping assist, and more.
The Camry also comes standard with Toyota Safety Sense 2.5+, a suite of safety features that includes lane-departure warning, adaptive cruise control, forward-collision warning, and others.
Price
When it comes to pricing, both cars are relatively similar, with the Honda Accord MSRP starting at $27,295 and the Toyota Camry MSRP starting at $26,320.
Final Thoughts
In conclusion, the Honda Accord and Toyota Camry are both great choices, depending on what you value most. Are you looking to prioritize safety features, a spacious interior, and a sleek design? Or do you prefer a sportier car with more horsepower?
Ultimately, it comes down to personal preferences, so it's essential to do your research before making your final decision. We have the 2023 Accord and Accord Hybrid in stock now! So, stop by our Honda dealership in Beaverton, OR today to schedule a test drive!